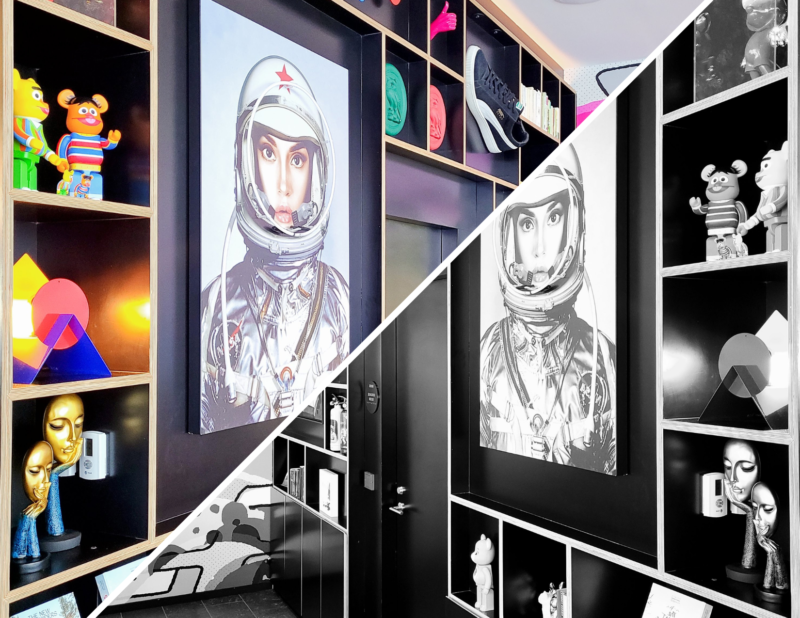 citizenM Hotel: The Stylish Place To Stay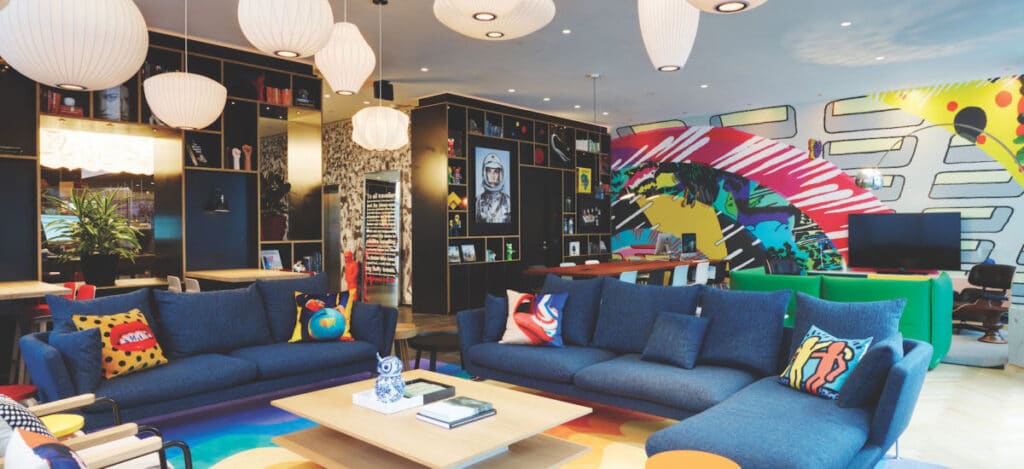 Hotels are tools to recharge, to give weary travelers a break from the road, or to indulge in forbidden fruit. If this is what defines a hotel, someone needs to tell citizenM. The stylish Netherlands-based chain embraces a whimsical millennial flair, and discards the trappings of traditional hotels. The citizenM philosophy is 'affordable luxury for the people'. They offer guests all the amenities of a high-end hotel in a prime location, without the eye-watering prices.
Check-In
Check-In at citizenM is seamless, the process uses kiosks similar to those located at airports. Enter the guest's last name, select a floor/view, scan a key card, and check-in is complete. A citizenM Ambassador is nearby for assistance, information, or a complimentary bottled water. As guests approach the elevators they are met by the 'Travellers Mirror', a seven-foot reflective reminder they are officially in the judgment free zone.
To the suits, weekenders, fashion baggers, and affair-havers. To the explorers, adventurers, and dreamers…citizenM welcomes you all.
Suites
When guests enter their suite they never have to worry about "did I get the best room?" because all of the them are alike. citizenM is a modular hotel; the rooms are built offsite to identical specifications, furnished, and shipped to the hotel location. The outcome is a room with an XL King size bed, a floor to ceiling window, and a frosted glass bathroom adorned with color changing LEDs.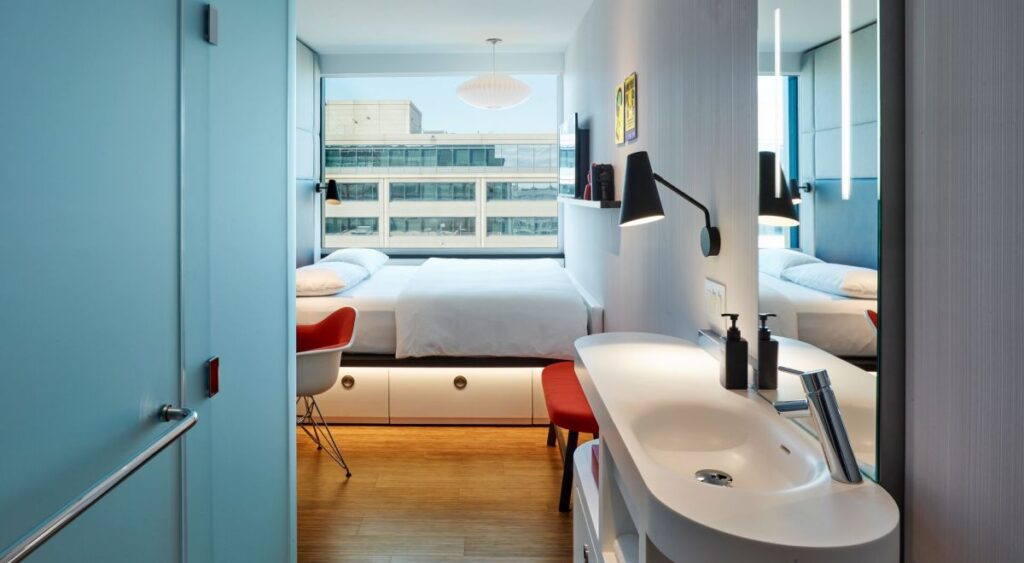 Because the citizenM suites are small, they make sure to pack a high-tech punch. Every suite has free HiSpeed Wi-Fi, smart blinds, and MoodPad (think iPad Mini). The sleek touchscreen interface of the MoodPad controls the TV, climate, and lighting. The customizable lighting is the star, LEDs combine to output 100s of color combinations to set any mood.
Living Room
When guests head downstairs they will see why It's impossible to confuse citizenM with any other hotel. Instead of an impersonal, cold lobby, every citizenM hotel has a signature living room. The vibrant area is filled with locally commissioned art, hundreds of books, designated workspaces and comfortable furniture. They're full of color for a reason – if guests are going to sit, they should sit in style.
The artwork in citizenM is curated to be unforgettable; gnomes giving on-lookers the middle finger, porcelain dogs humping, or crystal skulls, every inch is Instagram gold. After taking in the unique art collection, guests can go to canteenM the hotel's full sized bar. Grab a strong drink (trust me, these bartenders never met a shot they didn't double), a tasty meal, and sit in the living room to enjoy the big game on one of the massive TVs.
When in DC, New York, Seattle, or Boston put citizenM on your list, you will love the unique luxury experience. Tell the Ambassador "Excuse My Fresh" sent you, they will give you a confused look, but they won't judge they don't do that at citizenM.
Artwork